Mistrealm Minecraft Server
News
1.17 is coming. The rumor is that it will be mid-summer 2021. My current plan is archiving all the existing worlds, and starting a new one.
1.16.5 might be happening soon.
1.16.4 now running. That was much easier than usual.
1.16.3 now running. That was much easier than usual.

We are in business, 1.16.2 is up and running! Thanks to all the programmers keeping up with updates! They make everything possible!

WARNING The reports of inventories vanishing are confirmed. The problem seems to be mainly related to switching between multiverse worlds. I have no idea about the cause, or the ETA on finding a fix. Play at your own risk (and be sure to stuff things in chests on a regular basis).


Q: What plugins are running on the server?
A:[2020-08-15 10:00 INFO]: Plugins (19):
Dynmap,
Fly,
LuckPerms,
Minecart_speedplus,
Mistmine aka HelloBukkit,
Multiverse-Core,
Multiverse-Inventories,
Multiverse-NetherPortals,
Multiverse-Portals,
Multiverse-SignPortals,
PlugMan,
ViaVersion,
VoidGenerator,
VoidTeleport,
WorldBorder,
WorldEdit,
WorldGeneratorAPI,
WorldGuard

Q: How old is the server

?

A

: Parts of the server are merged in from even older maps, but here is the first server log entry I could find:

"2011-02-27 15:39:43 [INFO] Starting minecraft server version Beta 1.3"

This

screen shot

is from a few months later, 4-28-2011

Q: What version of Minecraft is running on the server

?

A

: Minecraft 1.16.4

Q: What version do I need to connect

?

A

: Minecraft 1.16.4, we are trying some software that allows older versions to connect, but I am not sure there is much call for it.

Nether Update Out Today on Java

Q: Do you post announcements or updates, and if so, where

?

A

: Rarely, but either this page, or

Facebook

or

Steam

Q: Are your world maps online

?

A

: We are using

Dynmap

to generate world maps. We rebuilt the online maps recently, so you should be able to see where you are going now. Enjoy!

Q: How much disk space does your server take?
A: The largest single world is World03, and it has 3162 File(s) 8,727,028,601 bytes . The Minecraft installation takes up 60.2GB in 10,189 files, and the online maps take up an additional 13.8GB in 1,146,570 files (as of 4/15/2020).

Q: I am actually looking for the official Minecraft website

?

A

: Official Links

Minecraft.net

home site

Mojang

for news and updates

Q: What server software are you using

?

A

: Currently we are using

Paper 1.16.4.416

(aka Paperclip) to run the server. Paper tends to update less often than Spigot, and it performs very well.
We were peviously using
Spigot 1.16.2
Spigot. Spigot is updated quite frequently, and will have the most recent fixes and features. There is nothing wrong using Spigot to run your server, we have used it for the majority of the life of the server.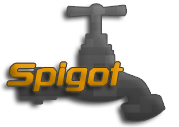 (
spigot
,
bukkit
changelogs)
Buildtools
(121) link
Active Plugins
Inactive Plugins